Specialty Antennas
Malibu Speciality Antennas
Orbital Systems Speciality Antennas
CPI SAT Malibu and Orbital Systems Operations provide a wide range of specialty antenna systems to meet your application requirements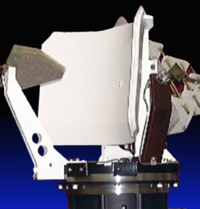 Malibu Specialty Antennas
CPI SAT Malibu's operations offer compact, lightweight direction-finding single or dual axis antennas designed for mobile, marine and airborne applications.
Alternative RF bands
Excellent SWaP
Operating altitude of 20,000 to 60,000 ft.
Operating temperature of -60 to +50 degree C
Orbital Systems Specialty Antennas
CPI's SAT's Orbital Systems operations will engineer a ground station solution for your application, utilizing existing products to meet your custom requirements.
Click on the links above for more information on specialty antenna products.