Antenna Control Systems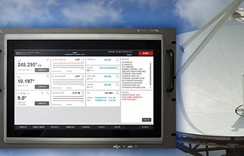 For over 50 years CPI has been developing high-precision satellite tracking and control systems. As the world's leading manufacturer of ground-based products and services, our systems are designed using cutting edge technology by our experienced engineering team.
CPI provides a variety of Antenna Control Systems and tracking receivers to fit your application. These precision products and systems provide cost-effective solutions to keep you connected and in control of your antennas. Our control systems can be used with almost any antenna and support a wide range of applications, including new systems, upgrades to existing equipment, or retrofits of legacy systems. The systems feature easy-to-use, modern interfaces, and are software upgradeable to protect your investment.
An Antenna Control System (ACS) is a system that is used to control the position and configuration of an earth station antenna in order to optimize its performance for a specific application. A Tracking Receiver Unit (TRU) is portion of the Antenna Control System designed to receive signals from a satellite and provide tracking inputs to the Antenna Control System. Antennas are used to transmit or receive electromagnetic signals, and the position of the antenna can have a significant effect on its performance.
Antenna Control Systems can be used in a wide range of applications, including telecommunications, radio and television broadcasting, radar, and satellite communications. The specific components of an Antenna Control System can vary depending on the type of antenna and application, but they generally include motors, actuators, interface sensors, software, and tracking receiver equipment.
All control systems come with an end-to-end warranty and are supported 24/7/365 by our technical customer support team. Contact our Sales team to identify the right solution for your needs.