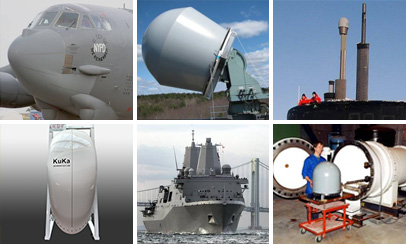 CPI Radant Technologies Division
CPI Radant Technologies Division (CPI Radant) specializes in the design, manufacture and testing of radomes, Radant lens electronically steerable antenna, reflectors and structural composite products for use in high-performance airborne, ground-based, shipboard and submarine installations.

CPI Radant has been serving the aerospace, defense and commercial industries since 1979 from its Stow, Massachusetts headquarters. Its experience is broadly based as a supplier to many major aerospace and defense contractors as well as small companies and government agencies.

Resources at CPI Radant include a complete array of facilities to support design, manufacturing and testing of radomes, antennas and composite structures. The experienced staff includes personnel with disciplines in electromagnetic analysis, RF engineering, composite materials and manufacturing engineering, tooling and hardware design, production, testing, quality assurance and program management.

With a unique integrated facility and comprehensive engineering capability, CPI Radant can support full-scale development as well as production programs. CPI Radant operates an AS9100D/ISO9001:2015 quality program. Its experience includes involvement in programs such as B1-B, MC-130H (Combat Talon II), Milstar and Navy EHF satcom (NESP). CPI Radant has extensive facilities for high-performance radome, antenna and structural composite manufacturing.