High-Frequency Antennas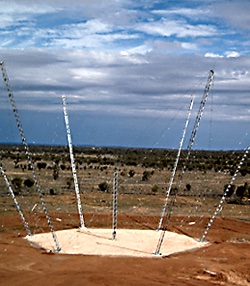 Omni Directional
Under the omnidirectional antenna category, CPI ASC Signal Division offers three distinct classifications.
Broadband Dipoles
Broadband dipole products include the horizontally polarized 1765 for short-to-medium range communications, the 3065 antenna that reduces ground area requirements, and the 5065 series designed where space is at a premium, including rooftops.
Monocones/Monopoles
Monocone/monopole products are designed for high power, omnidirectional area coverage for ship-to-shore and ground-to-air applications. The 1794 series is ideally suited for ship-to-shore and ground-to-air applications. The 3794 Conical Monople antenna offers a cost effective, vertically polarized omnidirectional antenna designed with a single central tower effectively reducing ground area requirements. The 2753 series is a lower cost, vertically polarized antenna for applications when the full bandwidth of the 1794 is not required.
Horizontal-Elliptically Polarized Antennas
Products include the 3000 series SPIRA-CONES® offering simultaneous multi-mode capabilities, providing cost saving while allowing low and high take-off angle propagation, suitable for short, medium and long-range communications. This series of antenna is offered in a full sized version as well as a fixed and transportable compact version. The 2001 series horizontal elliptically polarized antenna is a wide band array effective for short and medium range communications.
Omni Directional