Fixed Satellite Earth Stations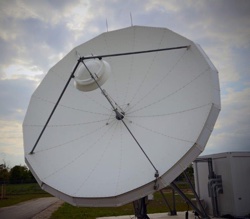 CPI ASC Signal Division fixed earth stations range from 3.5m up to 9.4m configured in receive-transmit or receive-only mode. They offer outstanding electrical performance and exceptional versatility to support multi-beam configuration, with low-PIM capability for all X-band systems.
The company's antennas provide an extremely accurate surface contour resulting in exceptionally high gain and closely-controlled pattern characteristics. High-quality manufacturing ensures maximum durability with minimal maintenance.
Click the links above to review product sheets for each of the company's Large, Midsize and Small antennas.