History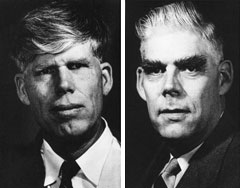 As the former Electron Device Business of Varian Associates, Inc., Communications & Power Industries LLC (CPI) has a long heritage of technological and product excellence. In 1948, Russell H. Varian and Sigurd F. Varian, the historical founders of CPI's business, founded Varian Associates and introduced the klystron as its first commercial product. Varian Associates was incorporated in California on April 20, 1948, with the stated purpose to "conduct general research in the fields of physical science of every kind or nature." At the time, Varian Associates had $22,000 of capital and six full-time employees, receiving technical and business assistance from several members of the faculty at nearby Stanford University. (Read more about
the early history of Varian Associates.
) In 1953, the company established its headquarters in Palo Alto, Calif., in what has become the Stanford Industrial Park. (Read more about
Russell and Sigurd Varian
and
the invention of the klystron
.)
Today, CPI is a leading provider of microwave, radio frequency (RF), power and control solutions for critical defense, communications, medical, scientific and other applications. CPI develops, manufactures and globally distributes components and subsystems used in the generation, amplification, transmission and reception of microwave signals for a wide variety of systems including radar, electronic warfare and communications (satellite and point-to-point) systems for military and commercial applications, specialty products for medical diagnostic imaging and the treatment of cancer, as well as microwave and RF energy generating products for various industrial and scientific pursuits.
The company is organized into eight operating divisions:
Microwave Power Products Division, which now includes the Eimac operations, in Palo Alto, Calif.;
Beverly Microwave Division in Beverly, Mass.;
Satcom Division in Georgetown, Ontario, Canada and Palo Alto, Calif.;
Communications & Medical Products Division in Georgetown, Ontario, Canada;
Econco Division in Woodland, Calif.;
Malibu Division in Camarillo, Calif.;
Radant Technologies Division in Stow, Mass.; and
ASC Signal Division in Plano, Texas and Whitby, Ontario, Canada.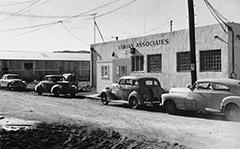 In its early years, Varian Associates' products included vacuum electron tubes, an expanding instruments product line, an embryonic accelerator activity and a venture into geophysical instruments. In the mid-1950s, the company invented an all-electronic vacuum pump for manufacturing vacuum electron tubes. The company soon realized that the vacuum pump had applications far beyond tube processing and launched additional lines of business.
In the early 1950s, the Canadian government asked Varian Associates to create a local source for the production of microwave vacuum electron devices. The company established Varian Associates of Canada Limited in 1954 in Georgetown, Ontario, Canada. This business has since become the Communications & Medical Products Division of CPI, a premier manufacturer and technology leader in microwave communication products and high-frequency switching power supplies and control systems for medical and industrial markets.
By 1958, Varian Associates had grown to approximately 1,300 employees and generated approximately $20 million in sales.
In 1959, the company helped launch S-F-D Laboratories in Union, N.J. to design and build new classes of magnetrons and other microwave tubes. That same year, Varian Associates acquired Bomac Laboratories, a manufacturer of microwave tubes and components in Massachusetts. Varian Associates acquired LEL, Inc., which specialized in microwave components, in 1964. These three operations were combined into one operation in Beverly, Mass., and have become the Beverly Microwave Division of CPI.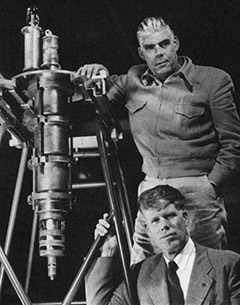 In the 1960s, Varian Associates expanded its business with research in solid state devices, new forms of printing and the development of devices for commercial communications. The company also acquired the traveling wave tube business of the General Electric Company in Palo Alto during this period, merging it into Varian Associates' existing local operations.
In 1965, the company acquired Eitel-McCullough, Inc., a Calif.-based manufacturer of a broad line of specialty electron tubes, primarily for various broadcast and industrial markets. Eitel-McCullough was originally founded in 1934 by William Eitel and Jack McCullough to produce more powerful and reliable transmitting vacuum tubes operating at low voltages for the Ham radio community. Its products were quickly adopted for commercial and military transmitters: they were used by the U.S. Navy in radar experiments starting in 1938 and they powered Allied radars during World War II. Eitel-McCullough became the Eimac Division of Varian Associates and eventually became the Eimac operations of CPI. In June 2006, those operations were integrated into the Microwave Power Products Division of CPI in Palo Alto, Calif.
In 1972, Varian Associates purchased Ryka Scientific, which became part of the company's solid state operations. In 1979, the Solid State Microwave Division consolidated all its activities and moved into a new facility "dedicated to the development and production of microwave solid state devices and components." This division's products were used for low-power applications in communications, avionics, radar, instrumentation and electronic warfare applications. CPI later sold these operations in 2002.
In 1979, Varian Associates' Microwave Components and Subsystems Division consolidated the majority of its activities in a new, 100,000 square foot facility in Santa Clara, Calif. This division, which focused on power amplifiers, power supplies, microwave components and electromagnets for satellite communications, radar and electronic warfare applications, eventually became the Satcom Division of CPI.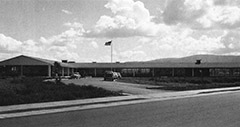 In 1989, as a result of the energy efficient performance of the Klystrode® inductive output tube (IOT), the Eimac Division of Varian Associates was awarded an Emmy® Award for technological achievement by the Academy of Television Arts and Sciences. The Klystrode IOT used in television transmitters at WCES in Augusta, Ga. was the first of the high-power output devices to be on-air for UHF television.
Over the years, through internal development and acquisitions, Varian Associates grew its Electron Device Business and developed new devices and uses for its products, including applications for radar, electronic warfare, communications, medical, industrial and scientific markets. The Electron Device Business of Varian Associates became a technological leader in microwave and x-ray generating devices and electronic equipment to drive these devices.
In August 1995, Varian Associates sold the Electron Device Business to Leonard Green & Partners, L.P., a private equity fund, and members of management. Together, they formed Communications & Power Industries, Inc. with the mandate to continue to grow the business' tradition of technology leadership and manufacturing excellence.
In January 2004, affiliates of The Cypress Group, a private equity fund, acquired CPI.
In October 2004, CPI acquired Econco Broadcast Service, Inc., a rebuilder of power grid devices originally founded in 1968 in Woodland, Calif. Econco Broadcast Service, which became the Econco Division of CPI, had received the first contracts ever awarded by the U.S. government and the U.S. Navy to remanufacture microwave devices, and twice received the U.S. Navy's Award for Excellence.
In April 2006, CPI International, Inc., the parent company of CPI, held its initial public offering and began trading on The Nasdaq Stock Market under the symbol "CPII."
In August 2007, CPI acquired Malibu Research Associates, Inc., a leader in the design, manufacture and integration of advanced antenna systems for radar, radar simulators and telemetry systems, as well as for strategically vital data links used in ground, airborne, unmanned aerial vehicles (UAV) and shipboard systems. Malibu Research Associates, founded in 1975 and located in Camarillo, Calif., became the Malibu Division of CPI.
In February 2011, an affiliate of Veritas Capital, a private equity investment firm which invests in companies that provide critical products and services to governments worldwide, acquired CPI for approximately $525 million. CPI International ceased trading on The Nasdaq Stock Market.
In June 2012, CPI acquired the Codan Satcom business from Codan Limited, increasing CPI's portfolio of solid-state products and subsystems for satellite communications applications to support commercial and government customers. The Codan Satcom business, consisting of operations in Australia and the Locus Microwave operations in Boalsburg, Pa., was integrated into the Communications & Medical Products Division of CPI.
In June 2013, CPI acquired M C L, Inc. (MCL), a manufacturer of power amplifier products and systems for the satellite communications market. The acquisition, which was integrated in the Satcom Division of CPI, further expanded CPI's satellite communications product and service offerings.
In October 2013, CPI acquired Radant Technologies, Inc., a manufacturer of advanced composite radomes, reflector antennas and structures for defense aerospace, defense naval and commercial aerospace applications. The acquisition broadened CPI's portfolio of microwave and radio frequency products for radar, electronic warfare and communications applications. Radant Technologies, founded in 1984 and based in Stow, Mass., became the Radant Technologies Division of CPI.
In September 2015, CPI acquired ASC Signal Corporation, which designs and builds advanced satellite communications, radar and high-frequency antennas and controllers that are used in commercial and government satellite communications, terrestrial communications, imagery and data transmission, and radar and intelligence applications. The addition of ASC Signal's products and technology broadens CPI's existing offerings for communications and radar customers to include one of the industry's broadest portfolios of high-performance, large-aperture fixed and mobile antennas. Headquartered in Plano, Texas and with manufacturing facilities in Whitby, Ontario, Canada, ASC Signal is now the ASC Signal Division of CPI.
Today, CPI continues its long tradition of leading the world in developing and producing microwave devices. In fiscal 2016, CPI employed approximately 1,880 people and generated approximately $495 million in sales.